With BIG, Sprout, ALTERNATE aTTaX, Unicorns of Love, epikk esports and Touch the Crown being the six teams of the grand finale on May 22.-24., we want to use the time to provide you with some entertaining cups with great prizes to bridge the wait for the final!
#StayAtHome Cups
From 26.04 on there will be a Merkur Masters Cup every Sunday with great prizes and the chance to win something for every skill level! Because in addition to the non-cash prizes for the first places in each cup, there will also be a bonus prize worth a total of over €1.000, which will be raffled off among ALL cup participants.
In addition, all cups are played in SWISS format, so that everyone has numerous games in front of them and is not immediately out after one or two games. Each cup participation brings five entries for the bonus prize and each map win brings one additional entry for the bonus prize. This means that every effort pays off right up to the end!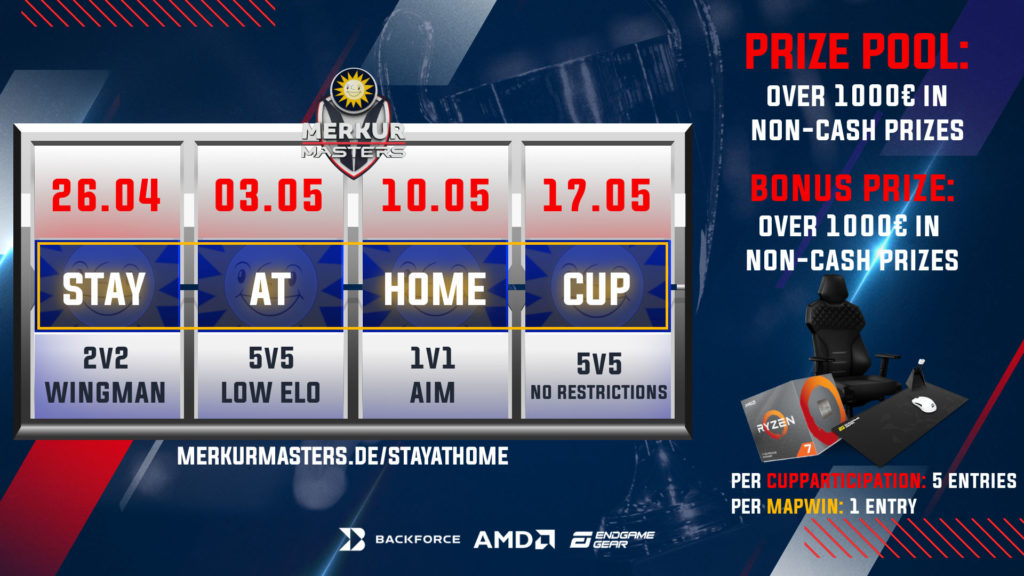 Bonus prize
Each player receives five entries per cup participation and one additional entry for each map win. More entries means a higher chance of winning.
After the four Cups, the prizes will be randomly drawn among all participants! For example, if you participate in all four cups, you will already have 20 entries for the bonus prize!
Cup summary
17.05, Sunday: 5on5 Amateur (Swiss-System)
Compared to the casual tournament, there are NO restrictions on the FACEIT level this time. As before, everything is played in the BO1 SWISS system. Start is at 15:00 CEST!
ENDED
26.04, Sunday: 2on2 Wingman (Swiss-System)
The first cup will start on Sunday at 4 pm and will be played out in 2on2 mode, BO1 in the SWISS system.
03.05, Sunday: 5on5 Casual (Swiss-System)
Any player can play, but the average level in the team must not exceed FACEIT level 7. So you can play with a friend who is already FACEIT Level 10 as long as the average team level does not exceed 7.
The format here is also a BO1 in the SWISS system. Start is 15 o'clock CEST!
JOIN THE 5v5 Casual CUP (ENDED)
10.05, Sunday: 1on1 Aimmap (Swiss-System)
Short and crisp 1on1 tournament on the most popular Aimmaps. MR16, BO1 in SWISS format. Start is 17 o'clock CEST!
Terms and conditions of participation
As with the regular Merkur Masters tournament series, the same conditions apply to the #StayAtHome Cups.
Every player must be at least 18 years old
Each player must have a verified Merkur Masters account: play.MerkurMasters.de
Only players from Europe are allowed
All cups are played on FACEIT
The whole spectacle will be broadcasted on twitch.tv/MerkurMasters!